Happy Spring from FEEST! We hope the season of change, rebirth and transition is treating you well. We are in the midst of lots of action at FEEST and we are excited to share stories from recent adventures.
Taste the Rainbow Salad Challenge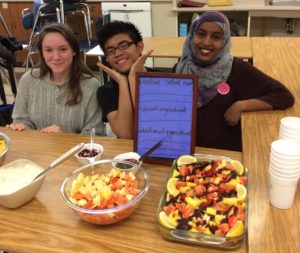 FEEST recently hosted a Taste the Rainbow Salad Challenge! Students came together to experiment with different salad bar items, many of the same ingredients they have in their own cafeteria. We partnered with the Highline School District Nutritionist to survey for new salad ingredients to include in next quarter's menu and brainstorm ways to increase the use of the salad bar. New items to be included in the school salad bar: tuna, beans of all variety & more fruitzzz! **A blueberry vinaigrette was amongst the final salads – omg yum!*
Report Back: Community Pop-up Dinner at Youngstown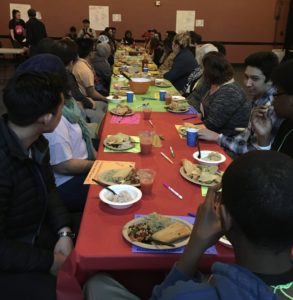 FEEST organized the first of a series of community pop-up dinners on March 8th at Youngstown Cultural Center:
Over 45 youth and adults joined an afternoon of intergenerational food-making! Our youth leaders led a mini-health justice workshop in between teams making salsa, guacamole, agua frescas, arroz con leche and a corn & bean salad. We were grateful to be back where it all started for FEEST, and look forward to creating more spaces where our youth lead in talking about the intersection of food, race, class, health and community building. Join us at the dinner table next time!