How Youth Can Take Action
Take our survey
about school food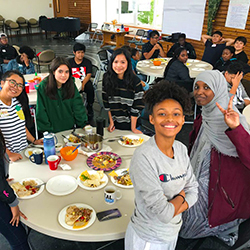 Are you accessing school food during the pandemic? Why or why not? Tell us about  the changes you want to see in your school food. This survey should take about 5-7 minutes to complete, and once you're done you'll be entered to win a $25 Visa gift card.
Become a
FEEST Youth Leader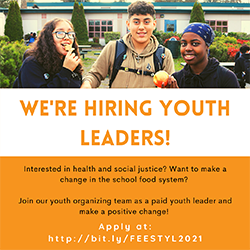 Are you interested in health and social justice? Want to build leadership skills and make positive change in your school food system? Become a FEEST youth leader!
Current freshmen at Chief Sealth, Rainier Beach, Evergreen and Tyee High Schools can apply. This program is 4-6 hours per week. You will be paid a bi-monthly stipend which breaks down to $17/hour.
Apply by Sunday, April 18 at 12 AM midnight.
Follow us
on Social Media
Follow us on social media to get the latest on what we've been up to.
Our Campiagn Goals (What We Want)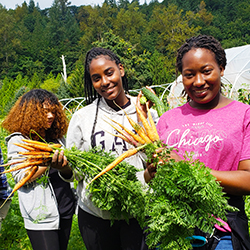 We want all meals to be cooked from scratch, on campus, and made from fresh (never frozen or canned), locally sourced ingredients
Scratch cooking equipment for all schools

Training for all kitchen staff

Good working conditions for kitchen staff (including overtime for training, benefits)

Partnerships with local food businesses and suppliers for fresh fruits and veggies
We want
CULTURALLY RELEVANT
food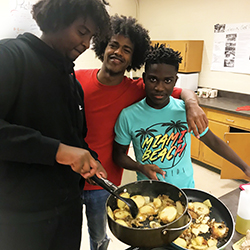 We want a variety of menu items that reflect the diverse background of students
Hire qualified chefs of color to make authentic meals

Train kitchen staff to prepare diverse, culturally relevant meals 

Partnerships with local food businesses and suppliers for cultural foods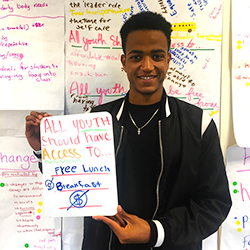 We want breakfast and lunch to be free for all students
Clear all lunch debt from student accounts so meals are accessible to all students regardless of income

School districts should enroll in the Community Eligibility Provision to give everyone free meals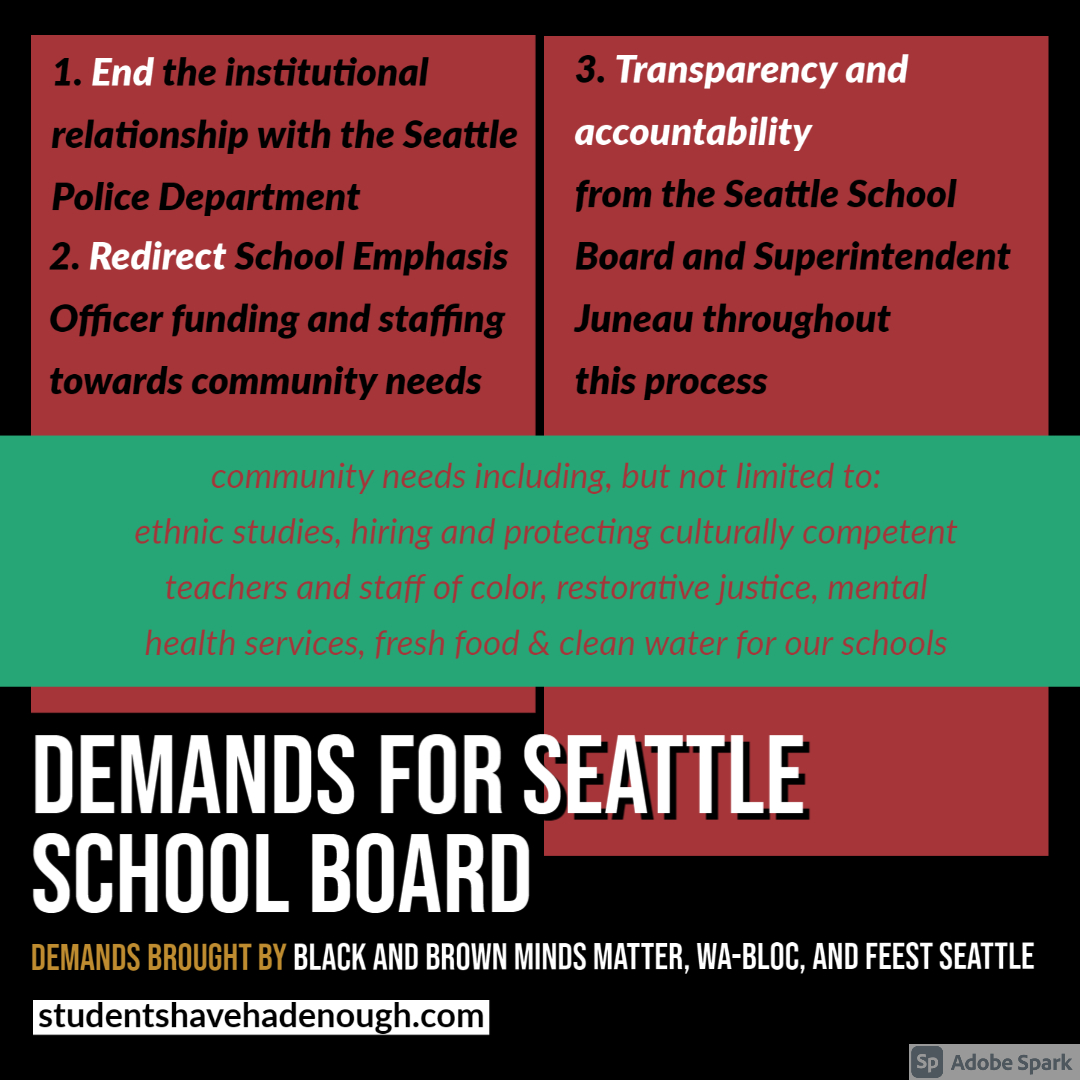 Police Removed from Seattle Public Schools
FEEST partnered with Black Minds Matter and WA-BLOC in a campaign to have police officers removed from Seattle Public Schools. We created a petition that gathered about 20,000 signatures signed by parents, students, an community members. We presented the petition to the Seattle School Board and worked with School Board Member Brandon Hersey write a referendum that the board could vote on. The school board voted unanimously to end their partnership with the Seattle Police Department.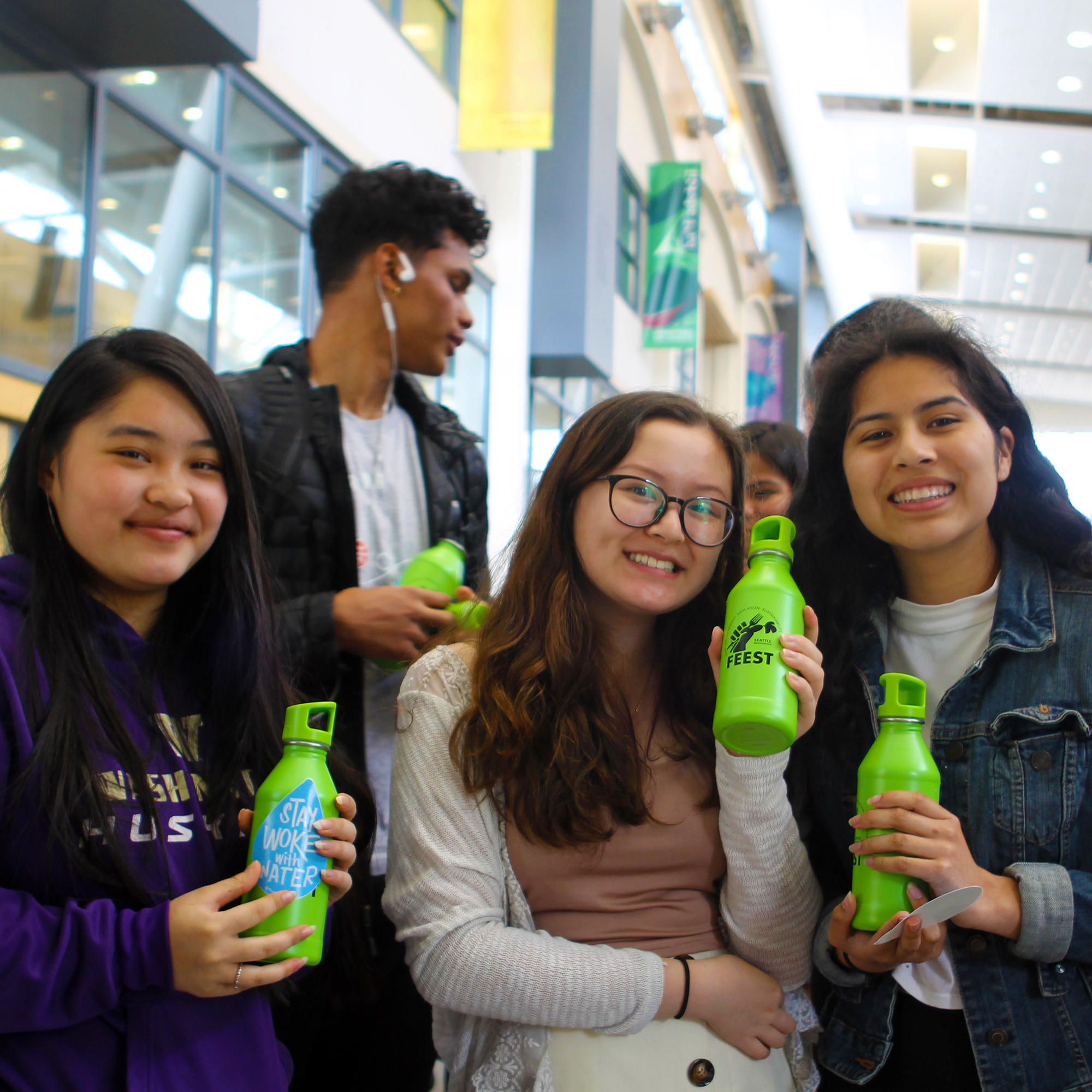 New Water Bottle Filling Stations
FEEST partnered with the Office of Sustainability and Environment to bring new water bottle filling stations to Rainier Beach High School and Chief Sealth High School, at youth-chosen locations. This was especially significant at Rainier Beach, where there was only 1 clean water station for all students.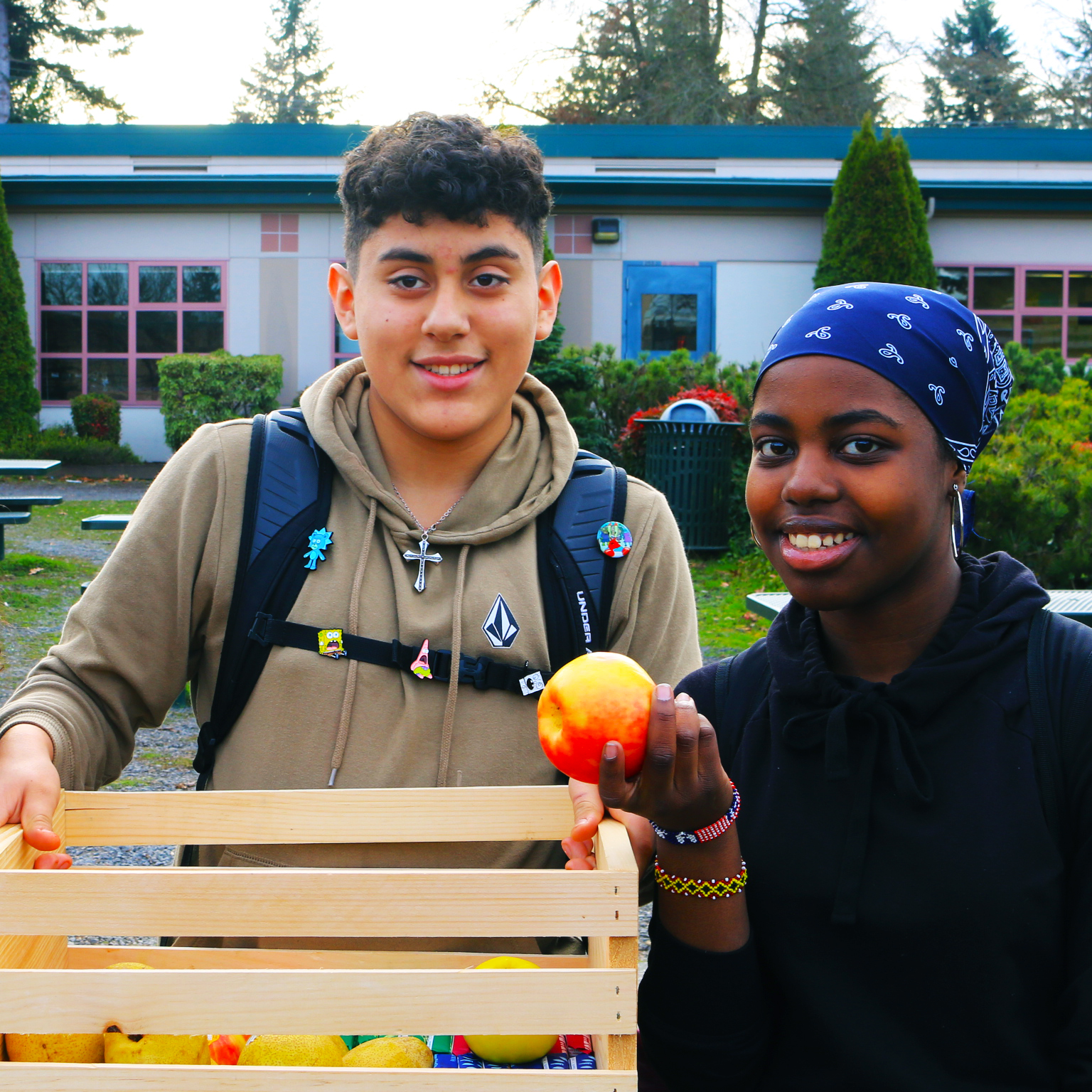 Youth-designed Snack Program at School
FEEST Youth Leaders in Seattle designed a snack program that gave free fruits and protein snacks to students during the school day. This program was made in partnership with the Seattle Office of Sustainability and Environment (OSE) and Seattle Public Schools (SPS) Nutrition Services. After a successful test run at Chief Sealth High School, SPS agreed before the pandemic to expand the program to Rainier Beach High School and eventually the rest of the Seattle Public Schools. The success of this program at Chief Sealth proved that youth can and should design effective solutions for the problems that directly affect them.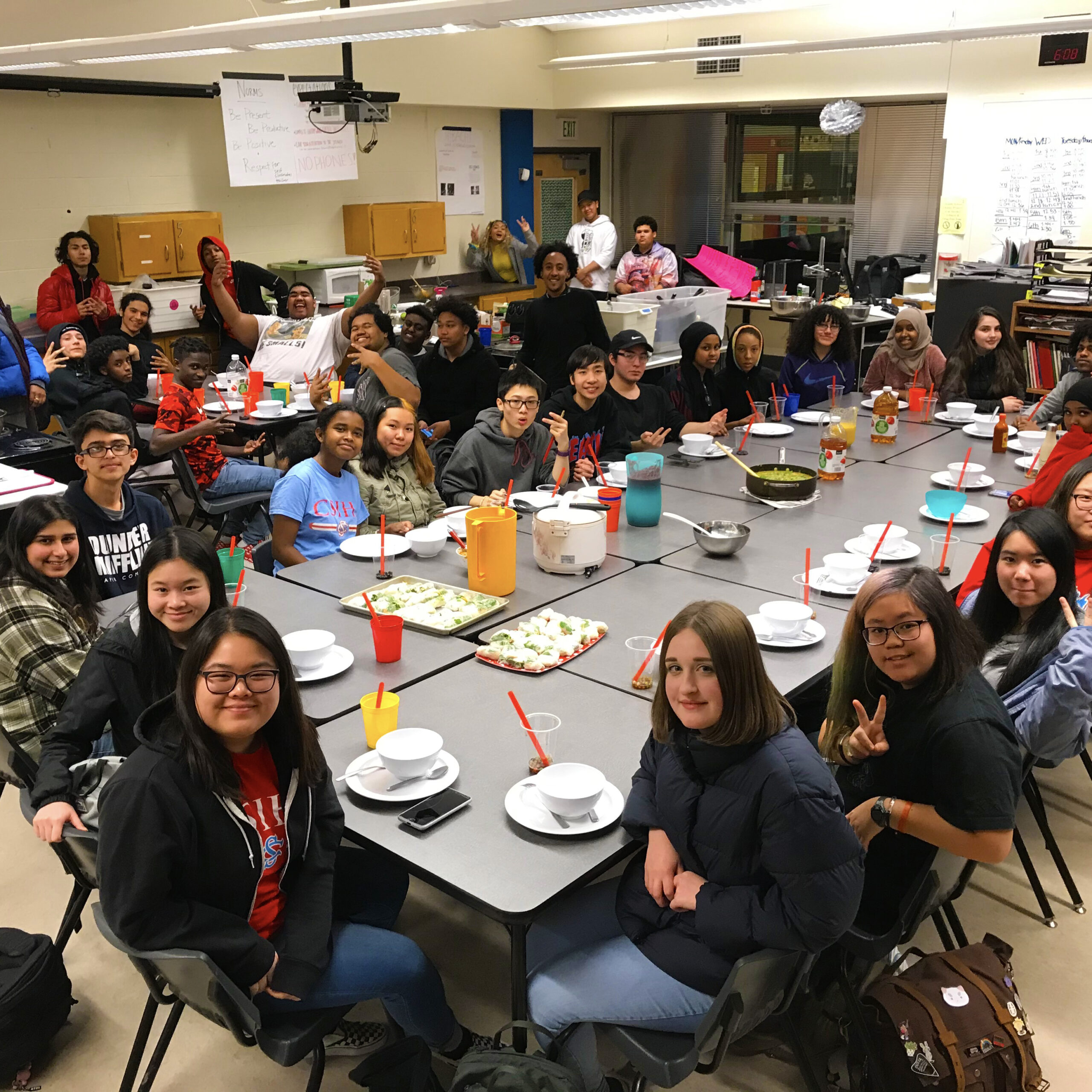 Culturally Relevant Foods on the Lunch Menu
FEEST students have partnered with Nutrition Services Directors in Seattle Public Schools and Highline Public Schools to get a variety of youth chosen, culturally relevant items on the menu. In Seattle Public Schools, Nutrition Services made a commitment before the pandemic to offer a wider variety of culturally relevant items, including an expansion of the salad bar. In Highline Public Schools, youth won Somali spaghetti, chicken tortilla soup, jerk chicken, pho, banh mi, pozole, and more on the menu.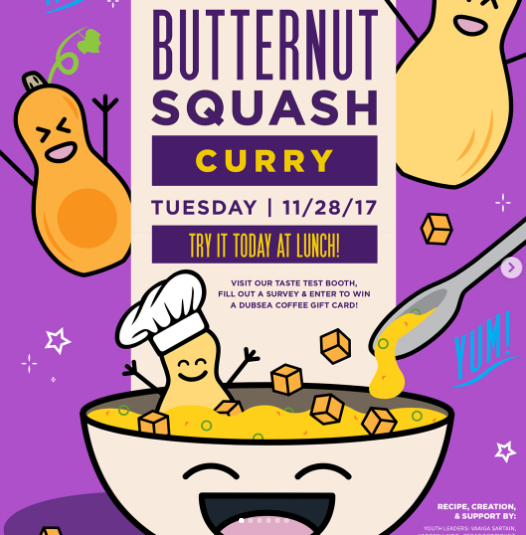 Youth-Designed Items on the Menu
FEEST students in Highline Public Schools carefully crafted new recipes and taste-tested them with students in the cafeteria. After proving that students liked these new youth-designed items, the Nutrition Services Director agreed to add our butternut squash curry, lentil stew, apple bread, blueberry salad dressing, and pickled carrots to the district-wide menu.