Seattle Public Schools has a new Nutrition Director Aaron Smith this year, and he's agreed to take up our recommendations for culturally relevant foods and other menu upgrades in the district (woo!!). Right now he's working on a new long-term plan to implement the feedback he's gotten from students, with some changes ready for next school year. Read all about it in this new article in The Seattle Times (that's right, FEEST is in the news!!!!).
Here's a little from Aaron's interview with the Times: 
"What I already have planned is definitely to increase the variety of fresh fruits and vegetables that we offer students. We're going to transition away from processed items and going to more unprocessed foods. […] It's just about the quality of items. The more feedback I get, then I can figure out a way to plan it out and phase it in. I need to stay within my budget, but also meet the needs of the community. The end goal is to get back to some type of scratch cooking."
What what!!! This is such a big win for FEEST youth leaders and an awesome way to end the school year.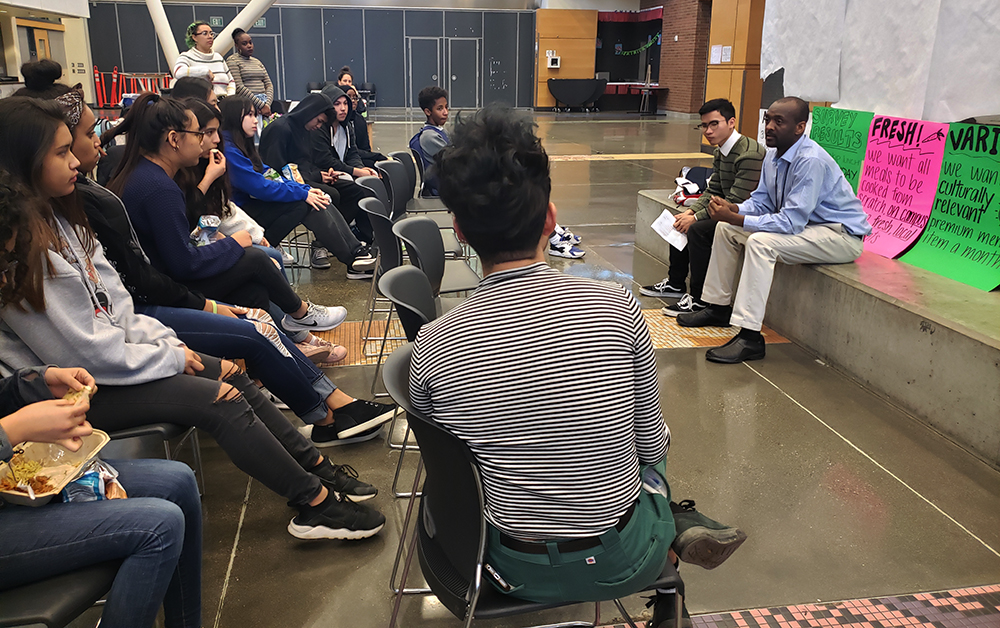 Above: FEEST youth leaders met with SPS Nutrition Director Aaron Smith to talk about how they want their school food to improve. Now he's making a plan to implement it.