What kind of food do you eat when you're celebrating?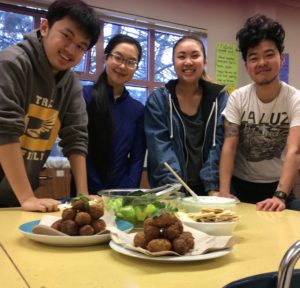 For me, celebration, no matter the occasion, always involves loved ones and the sharing of comfort food. In winter, little pockets of doughy joy, also known to others as dumplings, are in heavy rotation. Growing up they were such a treat, the different combos of dipping sauce and fillings are endless and of course, the slurppin' involved is a must.
This year, Lunar New Year fell in close tandem with some of our nation's biggest acts of resistance against the current President (and what beautiful acts they were!). At a time, when my family and friends invite good fortune with a big feast, mass protests erupted at airports across the country and I was faced with a false choice: celebration or resistance. But this isn't actually the choice at all.
It's in the celebration of each of you, of our youth leaders, and our community's vision and resiliency that will feed this resistance. In the words of Linda Sarsour, a long time community organizer, "Our love for our people is not done".
Celebration and organizing spaces that reimagine and center radical love for our community are exactly what we need right now. 
That's why I'm excited to celebrate the year to come and FEEST's growing team with you! I'm so humbled to welcome Zumi Mizokami as our Dinner Coordinator (right) and Misha Jackson as our Outreach and Operations Coordinator (left). We couldn't have asked for a better duo to join our team at this time. Read their full bios on here!
We've been schemin' quite the year: weekly school dinners, new intergenerational pop-up dinners, more field trips, youth-led school foods organizing in both Seattle and Highline School District, and community workshops for and by youth about holistic health and food. Not to mention a pretty fly team of youth and staff, I can't wait to share more in the coming year!
with love and celebration,
Lisa Chen
Executive Director
Read the full newsletter here to learn the up-coming pop-up dinner, our new national organizing connections and your recent collaboration in White Center. Thank you for your continued support of youth-led food justice at FEEST!